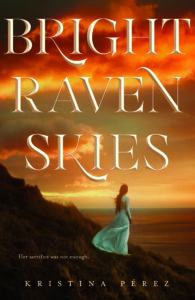 Hardcover Release date: August 25th, 2020
Publisher: Imprint/Macmillan
Buy Now
BRIGHT RAVEN SKIES is the thrilling conclusion to the lush and heart-wrenching romantic fantasy trilogy about ancient magic, warring families, and star-crossed lovers.
To save the kingdom, Branwen embraced the darkest aspects of her magic. But she may have lost herself––and the two people she loves most.
Tristan and Eseult are missing. As Branwen searches for them, she must hide the truth surrounding their disappearance from both the king and her lover. Above all, she must find the Queen and her Champion first.
New and old enemies circle Branwen, clamoring for power and revenge, and threatening to destroy the fragile peace that she has sacrificed everything to secure.
Praise for BRIGHT RAVEN SKIES:

"A feminist triumph…Pérez's alternative medieval world is immersive and detailed, her prose lush with mystical symbolism…the real climax occurs when Branwen learns to accept her own intrinsic worth and destiny. By the bittersweet ending, she has earned her choices." –– Kirkus Reviews